The Nor150 Sound And Vibration Analyzer covers a vast variety of applications such as environmental noise assessments, building acoustics, sound intensity, noise at the workplace and more. With the 4.3″ colored touchscreen making a sound measurement is just a few clicks away. This 2 channel version of Norsonic's
Nor145
can do it all.
General purpose sound measurements
Low noise levels
Environmental noise assessments
Noise monitoring
Product noise testing
Vibration measurements
Sound recording
Sound intensity measurements
Quality control
Building acoustics
Large colour touch-screen (4.3")
Intuitive user interface with graphical icons for selection of mode and custom made user setups. Markers edited directly on the touch screen
Real keyboard for quick operation in challenging environments
Built in webserver makes your Nor150 Sound And Vibration Analyzer available through the internet from anywhere in the world whether you configure it for LAN, USB, WLAN, GPRS, 3G, or 4G communication
Audio recording on trigger or softkey
Listen to recordings using a standard headset
Voice and text notes, built in GPS, and camera notes help you document your measurements
Wide frequency range for vibration and low frequency measurements (0,4 Hz – 20kHz in 1/3 octave band)
120dB measurement range broadband and filter
Seamless integration with Nor850 software
New features added to nor150 Remote, including camera support, alarms, etc
Profile B report with trigger possibility
Profile Moving report with trigger possibility
2 channel measurements
Reverberation time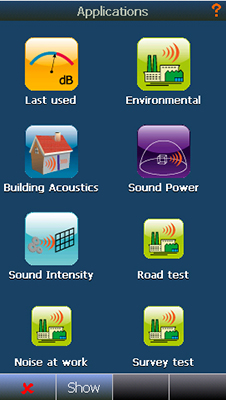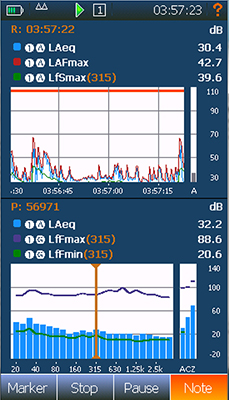 Option 1: Built in camera and GPS
Option 2: Second measurement channel
Option 3: 1/1 and 1/3 octave band filters
Option 4: Audio recording and makers
Option 5: Sound intensity mode supporting measurements in accordance with ISO 9614-2
Option 7: Signal generator
Option 8: Reverberation time decay and calculation of T20 and T30 based on impulse excitation
Option 9: Complete building acoustic mode with microphone position room averaging in accordance with ASTM E336, E1007 and ISO-16283 and ratings calculations according to ASTM 413, E989 and ISO-717
Option 11:

Enhanced noise assessment package including internal web server for remote control via smartphones, pads and PC and additional four triggers for independent setting of different trigger levels during a day. Requires Option 4

Option 12: NorCloud for noise monitoring. Requires Option 4, and 11.
Option 13:

FFT option. Requires Option 3

Option 17:

STIPA
Sound Intensity
The Nor150 Sound And Vibration Analyzer can come fitted with Option 5: Sound Intensity and the sound intensity probe kit, Nor1290. The Nor150 can be a powerful tool for all type of sound intensity measurements. It is designed for easy use in all types of measurement conditions.
The remote control handle using a Smartphone as a measurement control and displaying device forms a light weighted and easy to use system, allowing the user to perform all measurements with a single hand operation. The Smartphone communicates via WiFi with the internal web server running in the Nor150. The system may also be used with the sound intensity probe directly attached to the Nor150.
Applications
Sound Power Measurements in accordance with

ISO 9614
ANSI S12.12
ECMA 160

Noise Mapping
Noise Source Localization
Features
Compliant to IEC 61043 Class 1
Full on-board support for ISO 9614-2
Unique phase correction allows Sound Intensity measurements from 25 Hz to 10 kHz with 12 mm spacer
Intuitive warning indicators
Measurement-based suggestions for improving results
Automatic measurement sequence
Pause and back-erase with graphical display
Full measurement edit support (segment exclusion, resize, retake)
Add segment support
Export to Nor850 mapping and reporting software
Photo, text, and voice annotation
NorRemote app for smartphone remote control
Support for ½" and ¼" microphones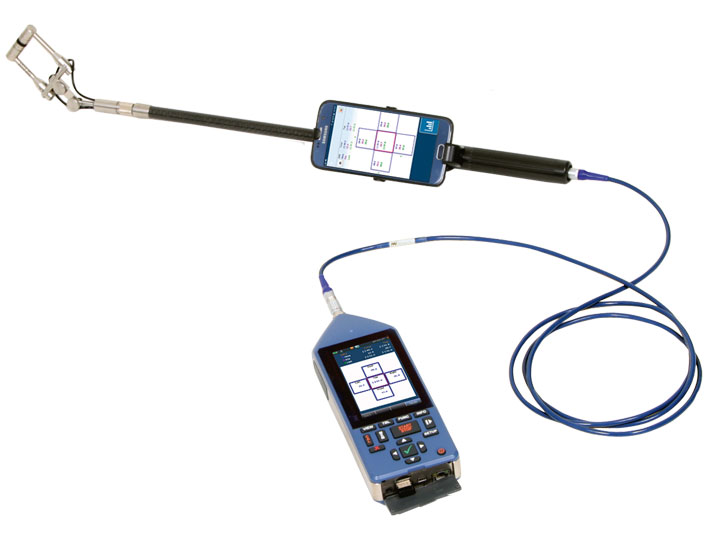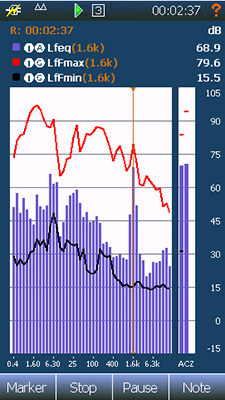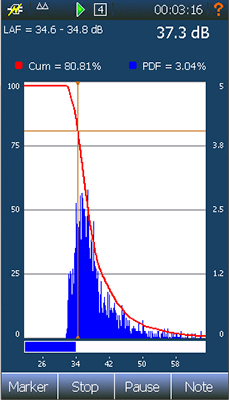 NorRemote
A new generation of remote control and data acquisition from a sound level meter!
Use your smartphone or notepad to connect with your sound level meter.
The Nor150's built-in web server opens up a new world of remote communication and acquisition of data from a sound level meter. Simply connect to your instrument via LAN, GPRS, or WiFi using a web browser to control, download, or view the measurement in real time. The program covers all applications from downloading files to full control of your analyzer to add markers, start a recording or just check the battery status.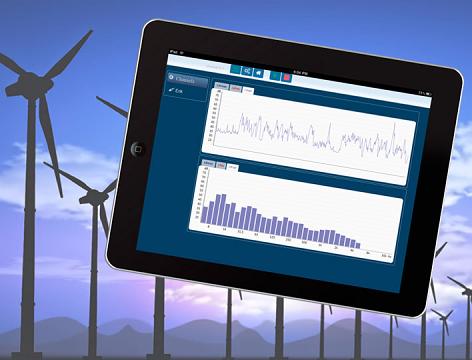 Measurement Parameters
Simultaneous measurement of SPL, Leq, LeqI, LMax, LMin, LE, LEI, LPeak, Ln and Tmax5.
Time weighting functions: Fast, Slow, and Impulse (Simultaneous).
Spectral weighting functions: A, C, and Z – weighting (Simultaneous).
Frequency analysis: 1/1 and 1/3 octave real time filters from 0,1Hz to 20 kHz.
Statistical calculations: 8 individual adjustable percentiles from L0,1% to L99,9%, The statistical calculations are performed in real time within each frequency band and for each profile period if period length is set longer than 2 minutes. User can select between Fast or Slow time weighting as basis for the statistical calculation.
Measurement Control
Time profile resolution: 10ms – 24 hours including full frequency spectra.
Overall measurement duration: 1 sec – 7 days. (If set to Repeat or Synchro mode a new measurement will be started automatically, with no time gap between each measurement.)
Back erase in Pause mode: 0-20 sec free selectable graphical back erase.
Audio Recording
12 and 48 kHz sampling rate / 8 , 8MU, 16 and 24 bits / 5 sec pre-trigger.
Measurement Range
One range covering 120dB without any range adjustments.
Self noise measured with ½" microphone with a nominal sensitivity of 50mv/Pa: 17dBA.
Maximum RMS level 137dBA, Maximum Peak level 140dB PeakC.
The high SPL mode enables measurements up to 194dB using a suitable 1/4" microphone.
Built in GPS for position and exact time synchronization.
Display
4,3" color display, ¼ VGA with capacitive touch. Scratch-proof display glass with anti-smudge coating.
GPS/Camera
Built in GPS for position and exact time synchronization.
Built in Camera for annotation before, during and after a measurement. Camera can be set up to capture noise event based pictures.
Data Storage/Transfer
Internal memory: 350MB
Micro SD card: Up to 64 GB, supports XC and HC standard.
Data can also be stored on an external USB stick.
Data transfer via LAN, USB and high speed RS232. Supports WLAN and GPRS – 3G/UMTS – 4G/LTE via USB. Internal web server may push data to any server or external device 350MB
Inputs
Microphone input: Two microphone inputs (Second channel optional). Supports standard 7 pin lemo preamplifiers including SysCheck, Microphone heating and IEPE. Polarization voltage: 0, 70 and 200V. Preamplifier voltage is +- 15V. Also suitable for vibration measurements connecting IEPE accelerometers and geophones.
Comment microphone: Via 3 pin mini jack.
Analog Outputs
AC out, 100mV full scale on 15 pin I/O socket.
3 pin mini jack headphone socket for replay of voice notes, listen to microphone AC signal or replay of audio recordings. Comment microphone for voice notes is connected to same plug.
Signal generator on 15 pin I/O socket with Pink, White, Band-pass filtered, sine, and impulse noise.
Power
Rechargeable 3,5Ah Li-Ion batteries with fuel gauge.
External power 10-28Vdc 3-5Watt.
Typical battery lifetime: 8 hours.
Dimensions (ex. preamplifier and microphone LxWxH): 240 x 82 x 39mm.
Weight (including preamplifier and microphone): 700g.